BUY ELSEWHERE NO. 01
The first edition of Elsewhere: A Journal of Place, Summer 2015.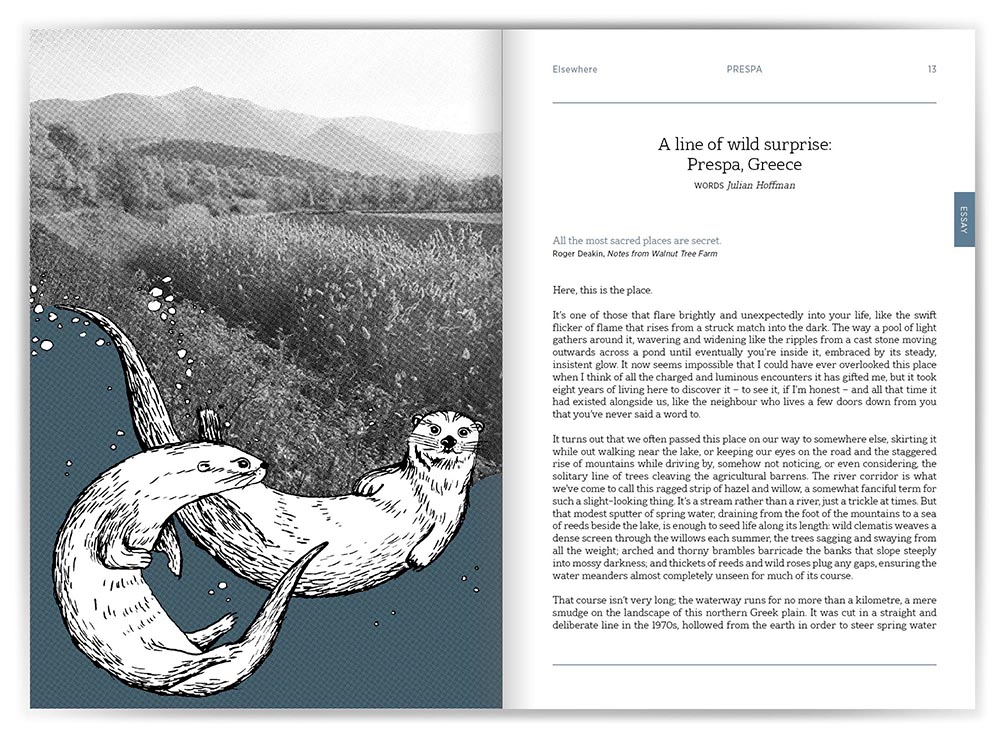 Places

Romney Marsh, England by Gary Budden
"The marshlands of England do not hold the same pull as the mountains, the dwindling forests, the dramatic coastlines. No tarns, fells, crags or summits to conquer. Out on the marshes the macho instincts of the landscape enthusiast fail."
Arniston Bay, South Africa by Eve Richens
"We knew then there were sharks in the water; water which looked so blue, and cool. From then on we told ghost stories, which Arniston is suited for: all the houses are so white, with windows so dark and small they look like eyes, or mirrors."
Prespa, Greece by Julian Hoffman
"These moments of sudden fortuity, of fleeting, synchronous beauty, teach us that wherever we are and whatever the time or mood of day, whatever hold the seemingly endless cycle of obligations and distractions has over us, that a place can open so entirely and surprisingly as to suspend us, as if weightless, inside it."
Loch Fyne, Scotland by Paul Scraton
"Now, as we stand on the peak of Dun na Cuaiche there is a single kayaker visible crossing the loch, the paddle making barely a splash as it slides gracefully in and out of the calm water. This morning we stood on the shore for over an hour and saw an otter, seals, porpoises and all manner of birdlife; but only one boat crossed our sightline. It is as if the people have given back the water, unsure any more of what to do with it."
Bankstown, Australia by Kavita Bedford
"An hour out of the city in the south-western suburbs of Sydney and reached by a warren of freeways, it was an inland trip from the coastal tropics. Bankstown was harsh and vibrant. There was no ambient lighting – just a bulb that hung from the sky keeping it under media scrutiny."

Gyttorp, Sweden by Paul Scraton
"Erskine's ideals may live on in these buildings, even a decade after his death, but Gyttorp still had the feeling of a fading dream. The grass verges were overgrown; the pedestrian pathways between the clusters of houses cracked."
Mitrovica, Kosovo by Nicky Gardner
"There is marked ethnic segregation in Mitrovica, with the town's Serbian population now living almost exclusively on the north bank of the River Ibar. The south bank is the preserve of Kosovo Albanians. But life is not that simple. The oldest Serb cemetery in Mitrovica is actually in a part of town which is nowadays overwhelmingly Albanian. It's just one of the many uncomfortable realities of Mitrovica life."
Nova Huta, Poland by Paul Sullivan
"The roaring traffic snapped me back to reality and I scanned the clutter of signs in front of me for a clue as to where to go next. Two of the largest signs, unhelpfully pointing in opposite directions, bore the name of my destination: Nowa Huta. I flipped a coin in my head and plunged west."
Oderbruch, Germany by Paul Scraton
"In a place where farmers continue to work, where cyclists follow well-marked trails through a forgivingly flat landscape, they are still finding bodies in the ground. A slaughterfield indeed."

People

Interview: Stephen Cracknell (The Memory Band)
"I began journeying along parts of the Harrow Way, researching folk songs from various localities and generally indulging myself. Out of all of that came the record."

The illustrations of Chandler O'Leary
"Most of all, I think it's the road that connects different American landscapes and regional customs to one another, and completes the picture of American culture as a whole."
Reviews

If Ever You Go - A Map of Dublin in Poetry and Song, collected by Pat Boran and Gerard Smyth
Off the Map by Alastair Bonnett
Two Films by Grant Gee: Joy Division & Patience (After Sebald)
€12

Payment via Paypal. All prices include 7% VAT (MwSt.) if applicable.
Price includes shipping to anywhere in the world.
Don't like Paypal? We are happy to accept payment by bank transfer. Please send us an email for more details… we would love to hear from you!
Payment via Paypal. All prices include 7% VAT (MwSt.) if applicable.
Price includes shipping to anywhere in the world.